Well it looks like the guys at Asus thought of something we thought of a long time ago. Attach a ceramic plate to the back of the motherboard so it makes contact with the aluminum tray or side of your computer case. These days computer cases are almost entirely aluminum so why not tap into it's cooling abilities. With the addition of the ceramic plate, the motherboard can cool itself through the aluminum computer case. Congrats Asus for being the first but don't think that you invented this idea. L337Tech has been preaching this for years, haha. One quick note to the enthusiast out there, nay the Overclockers, don't expect to run this at 650FSB. The board comes equip with SO-DIMM slots which forces you to use crappy laptop memory. No Cruicial Ballistix for this board!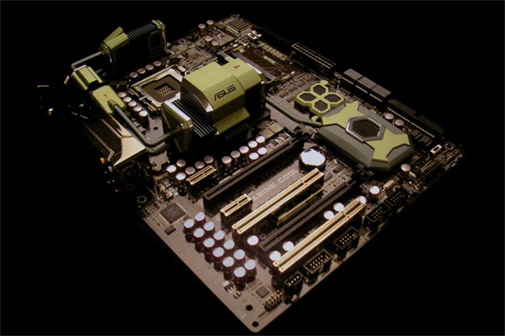 [source: HotHardware]
-L337Tech
6 Responses to "Asus Making Ceramic Cooled Motherboard with Ridiculous Heatsinks! (Marine Cool Concept)"
Leave a Reply
You must be logged in to post a comment.